KoiraNet (FKC database)
Born: 29.11.2003
Died: 11.09.2012
COD: Euthanasia. Ruptured tumor in adrenal gland, internal bleeding. (Necropsy)
ED: 0/0 HD: B/B
Character test: +163p
Breeder: Marita and Sari Helassalo, Kennel Black Indira's
Owner: Kati Laaksonen, Kennel Darkway

OBEDIENCE 2x ALO1 3x ALO2 1x ALO3
(ALO=Beginners class)

Manu was my first dog. I was only thirteen years old when my mother suddenly decided we were going to get a dog. It was close to my 14th birthday so I got to decide the breed. We had this encyclopedia of dog breeds from the 70's...And I fell in love with the picture of a stunning tricolored dog. A Bernese Mountain Dog. We knew basically nothing on dogs so we went to see the first available puppy there was. At that point I should have known there was going to be trouble...

First year we had huge problems. He was wild and out of hand. Still I had fallen deeply in love with the breed and wanted to learn so much more. So I applied and got in the Central Ostrobothnia Rural Institute to study dogs. I believe he gave the best dog trainers in this country some grey hairs, he was wild, dog-aggressive and at some points even human-aggressive. I learned a lot and got him to behave and we even competed in obedience. It took years for me to realize it was not all my fault, that there was something wrong to begin with, he was such a withdrawn puppy and we just didn't know better. When I took him to a character test the judge said "I don't know what this is, but it is not a bernese. He tries to dominate the whole world but just hasn't got the guts." That pretty much sums it up. From all that had happened I could not find that needed trust in him so I decided to quit competing and we just focused on trust and relationship. At home, with no stress he was the most wonderful pet and a loved family member, he was full of energy, always coming up with something new...And he always loved and protected his own pack. With him I learned the most important lesson in the dog world. That the true value of a dog is not in titles and succes, it is in love and companionship.

After his eighth birthday he was still like a child, so happy and full of life. No grey hairs to be seen...But in early september he started to have back pains and I noticed he had started to breath heavily. And just after a week of being truly sick we found he had a huge mass in his stomach and at that point there was no more to be done. I had made a promise that my dogs would not have to suffer no matter how much it hurts to let go. He slept away in my arms. The necropsy revealed that the mass was internal bleeding from a ruptured tumor in his adrenal gland.


There are now words to describe how much I miss him, a piece has been torn from my soul.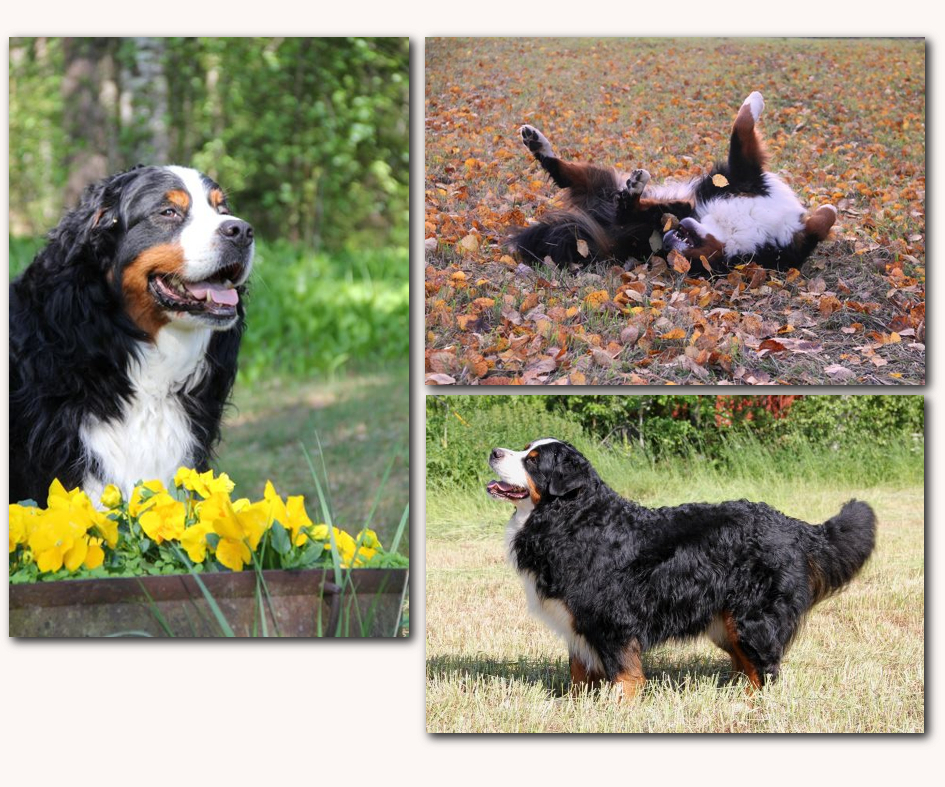 VINCENT

CH

EALEY VAN DE BUUT VRIJ HOEVE

CH

HERLETTA'S KALLAHAN

CH

HERLETTA'S DANIEL
HERLETTA'S GIGI
OL PASCHA GIONA VON BURGSEELI
DAAN LUC V.D. SAUVEGARDE
GIONA VOM BURGSEELI

CH

YNDIANA DU BOIS BERNOIS
GILL GILLIAN VAN DE BUUT VRIJ HOEVE

CH

SENNETTA'S KASSIUS
IRIS V.D. GELDERSE PAREL

CH

DIXIE UUT'T WAARKHUUS
PAN V. MUTZBACHFALL
BERNICE UUT 'T WAARKHUUS
BLACK INDIRA'S INGRID

CH

KUURAN ASTOR

CH

BENECO'S ARGOS

CH

MONTANARO TINO
STARLET BENITA

CH

KUURAN ESTA

CH

HAUHUUN NORSTAR
HAUHUUN PAULINE

CH

SILENCES INDIRA

CH

LECIBSIN HEICCI

CH

MONTANARO TINO

CH

OLDHILL LECIBSIN HANNI
FANI V. KNEUBüHL

CH

WACHO V. TONISBACH
BRITTA V.D. FRITZENFLUH